January 9, 2017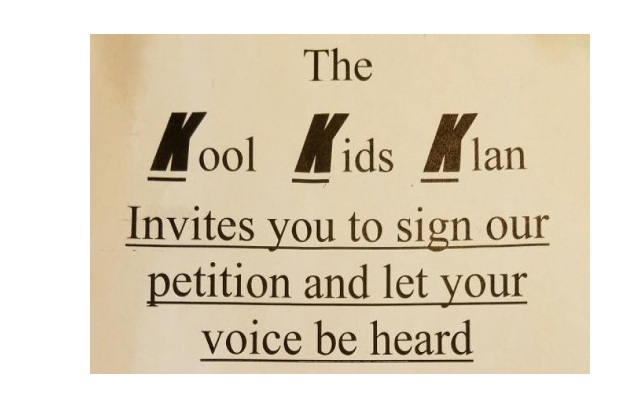 On Friday, January 6, 2017, some dumb high school students—is that redundant?—at Arundel High School, in Gambrills, Maryland, circulated a white supremacist petition. Some of them were even dumb enough to
sign
the idiotic thing.
What can we say? It's pretty clear by now that our current education system isn't matriculating a generation of geniuses and, let's face it, high schoolers have never been the smartest species on the planet. This is simply further evidence of what we already knew.
The petition, ostensibly from the "Kool Kids Klan," described African Americans as a "scourge," said they invented rape, stealing, and basketball (seriously, who writes this crap?), and bragged about "the supreme White race." Obnoxious and inane as the petition was, it didn't actually break any laws so the kids involved were simply rounded up and disciplined by the school, although their punishment, identities, and races were not revealed.
That's fine. Oh, yeah, there was the usual tizzy amongst the community because people love to squeal about KKK bogeymen, and pretend to be alarmed and victimized. The real KKK barely exists anymore and comprises scattered thirty-something white virgins who live in their mothers' basements sprinkling dandruff on each other while they eat pizza and plot impotent public gestures... but who cares about reality?
After some strongly-worded statements from the school system and some public meetings to reassure parents that the brave educators of Arundel were definitely
against
the KKK, that should have been the end of it.
But on the following Monday somebody with a malfunctioning
shift
key and the Twitter account "@KoolkidsKlanKkk" tweeted some actual threats, saying, "We're planning to attack tomorrow." Now
that's
against the law. Because
that's
an actual threat. Police were brought in, security was beefed up to protect the children, and an investigation was initiated to find the culprit.
In about two minutes they had their culprit: a "14-year-old African-American girl" and her parents met with detectives and the teen admitted creating the Twitter account and sending the threatening tweet.
Another KKK sighting exposed as phony.
Sources:
1/10/17 - Annapolis Patch -
'KKK' Twitter Threats Bring More Police to 2 Anne Arundel High Schools
1/10/17 - Washington Post -
School officials denounce racist petition that spoke of 'supreme White race'
1/11/17 - Odenton Patch -
'KKK' Twitter Threat Came from African-American Student: Police
1/11/17 - CBSBaltimore -
Police Charge Student For Threat Made At Arundel High School
1/12/17 - Heatstreet -
Police Charge Black Teen Girl Who Set Up Fake White Supremacist Account
Posted from Rockford, Michigan, USA
comments powered by

Disqus